PERFORMANCE
Hersh Rephun earned his comedy chops playing standup gigs coast to coast at Comedy Cellar, Caroline's, Comic Strip Live, Funny Bone, The Comedy Store, and more. In 2022, he launched two podcasts: Truth Tastes Funny (ranked in the top 5% of podcasts globally*), seeking survival tips in a chaotic world, and the new YES, BRAND podcast, on which he boldly takes brands where they desperately wanna go.
As you can see, posting improvised character clips on @3xDailyComedy has kept Hersh sane in these unprecedented times. Hersh appears clothed in The Adventures of Inspector Gerard Rouge, a farcical comedy series written/directed by Boris Damast, in which he plays multiple roles.
 *This podcast is one of the top 5% most popular shows out of 2,995,047 podcasts globally, ranked by Listen Score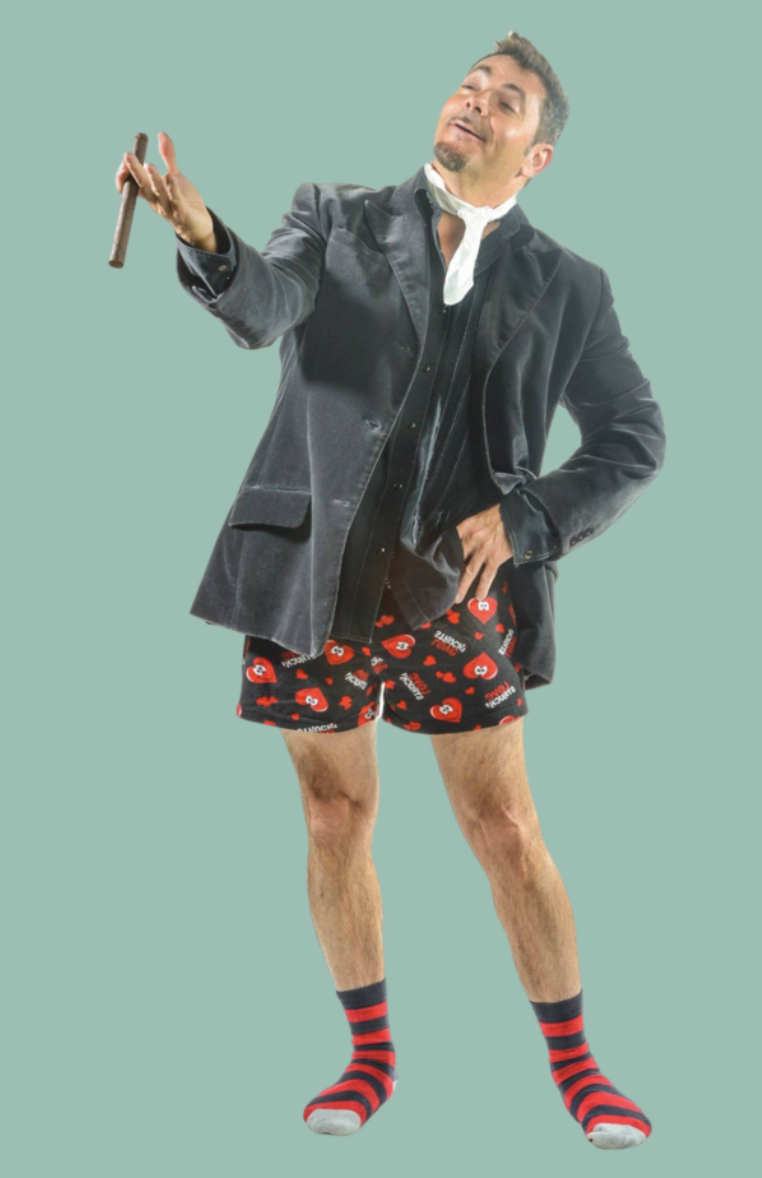 Photo Credit: James Walker Imagery
Want one of Hersh's characters to send a personalized message?
INSPECTOR ROUGE
Launched as a quarantine comedy, 'Rouge' is an homage to Poirot, Clouseau and a touch of Benoit Blanc. This lo-fi series was shot entirely on an iphone and produced in homes in LA, Toronto, Dallas, Milan and Iowa City. Each episode is approx 4 minutes long and stars Hersh Rephun. Written and directed (remotely) by Boris Damast. Producers are Andrea Kikot, Boris Damast and Hersh Rephun.
TINY SIRKO
Trailer for "The Tiny Sirko" show. The pilot episode tells the origin story of entertainer and host Tiny Sirko. Frustrated entrepreneur Titus Stanalonis reinvents himself as talk show host Tiny Sirko, a Ukrainian little person fighting for creative and personal freedom. While this new persona further complicates Titus's already-dysfunctional relationships, "Tiny" engages with the world in a way his creator never had.
When we opened our tasting room, we wanted to offer our customers a unique atmosphere. I can tell you, Hersh Rephun definitely did that this weekend. We've had so many people stop by, call, or email us and ask when he's coming back. His brand of comedy is something you won't forget, I literally start laughing when I think of some of the stuff he said.
I've never witnessed a performer like Hersh Rephun – funny, off the cuff, in-character, and all with a razor sharp wit. What a show!
BOOK HERSH
Host, MC
Stand-up
Private Events
Custom Messages

 

Actor
Voice Over
Commercials
Industrials
GIG ME!
Fill out the form below to get in touch regarding info and quotes