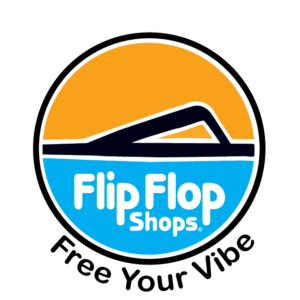 When Tom Romeo (founder, BEARPAW Footwear), acquired the Flip Flop Shops franchise in 2019, he immediately turned to Propeller 5 to reenvision the franchise's culture, and to build a new bridge between FFS and its franchisees.  
P5 founders Isack Fadlon and Hersh Rephun had been instrumental in breaking down barriers between BEARPAW and its target audience years earlier, and Tom wanted to do something similar here. 
P5 worked with the FFS leadership team, meeting with shop owners from North Carolina and Canada to Hawaii, to formulate a new take on the Flip Flop Shops brand. The tagline "Free Your Toes," which worked well for a strictly open-toe model, became "Free Your Vibe," reflecting the shops' new year-round offerings – and its desire for broader appeal. After all, Flip Flop Shops is more than a retailer, it's a lifestyle.
Tom dubbed Isack and Hersh "the Vibe Guys," and the pair have guided FFS through its cultural rebirth, most recently hosting a series of themed events at the Flip Flop Shops mansion in Orlando, FL. Coinciding with Surf Expo, the events brought together shop owners, vendors, and, of course, the FFS team.

Also on hand at the Expo was surf artist Michael Tilden (pictured, r.), who has joined the family with a dedicated collection of his work. Select art already appears in the Flip Flop Shops Orlando location, and other pieces will soon adorn additional shops.
High profile new franchises like the PIER 39 outpost in San Francisco, along with a pop-up at MGM Grand Hotel in Las Vegas, have reenforced the notion that FFS is more than a place to buy casual footwear…it's a destination.