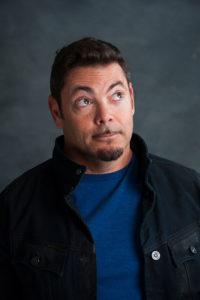 Hersh Rephun served as a publicist for some of the most high-profile and awarded commercial directors and production companies in the world, before diving headlong into standup, and emerging as a content creator, public speaker and podcaster bridging the worlds of comedy and advertising.
Since March 2020, he has posted 100+ videos @3xDailyComedy, appearing in front of the camera in improvised clips providing the necessary dose of daily comedy.
Hersh also stars in a new web series, The Adventures of Inspector Gerard Rouge, a farcical comedy in which he plays multiple roles. Written and directed by veteran spotmaker Boris Damast, the show is shot entirely on lockdown with the contributions of artists in Iowa City, LA and Milan.
Hersh's career spans two decades as a writer and creator of multi-platform content, marketing and PR campaigns for a diverse clientele, from filmmakers to fashion brands. His production and postproduction clients, including Jason Reitman (Juno, Up in the Air), Theodore Melfi (Hidden Figures, St. Vincent), the Anonymous Content roster, Union Editorial and Union Entertainment Group, have been honored with every major industry award, from Oscars to Cannes Gold Lions, the Palme d'Or, Grand Prix, AICP, DGA, Clio and One Show. He has helped challenger brands like BEARPAW become market players, and leads North American creative for Ccilu International, an award-winning footwear brand sold in 60 countries and now in the US.
This background in advertising and promotion, paired with comedy chops earned at standup gigs across the country (The Comedy Store, Comic Strip Live, Funny Bone, Comedy Cellar…), and screenwriting credits on cult films featuring spaceships, bikinis and Bruce Campbell (Assault on Dome 4), led to the creation of YES, BRAND: The Podcast, which Hersh describes as "equal parts laughter and self-help." His diverse guest list includes Birkenstock Americas CEO David Kahan, author and Forbes contributor Jonathan David Lewis (Brand vs. Wild), and filmmaker Jordan Brady (I AM BATTLE COMIC).
"SMITHEREENS," a comedy pilot written by Hersh, was a Best Screenplay finalist at the LA Comedy Fest and Beverly Hills Film Fest. In 2016, "SMITHEREENS" was presented in a live reading at the Comedy Film & Screenplay Festival.
In addition to working extensively as a host, moderator and performer, Hersh currently serves as Chief Creative Officer of digital agency Propeller5.