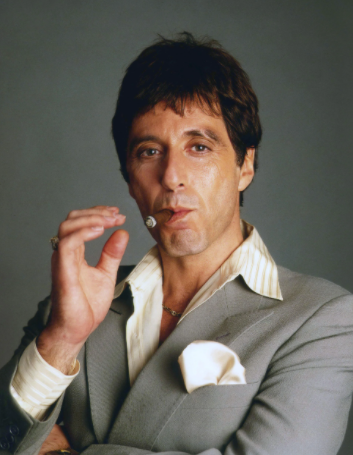 December 2, 2020

hershrephun

0
TONY MONTANA, American Dreamer
For some, the "American Dream" seems unattainable, obstructed by a confluence of obstacles, often the result of hypocrisies woven into the fabric of the country. It is inspiring then, to consider the story of Miami businessman Tony Montana, who came to the United States from Castro's Cuba unafraid of hard work and undaunted by the many steps between his beginnings and the future he dreamed of.
The son of an American father and a Cuban mother, Mr. Montana worked his way up from dishwasher to dealmaker. He was separated from his mother Georgina and younger sister Gina for five long years, before making his way to Miami and claiming the green card to which he was entitled given his father's citizenship.
Along with his friend Manolo "Manny" Ribera, Mr. Montana began humbly, with a kitchen job. He would soon be reunited with his family and go on to finance his sister's beauty school education, without which she would not have been able to open her salon, Gina's. Mr. Montana's meteoric rise from Little Havana to big business may be due to his unique combination of truthfulness and trustworthiness. "I always tell the truth, even when I lie," he once said. "I only got two things in this world, my balls and my word. And I don't break 'em for nobody."
Indeed, despite the demands of his multimillion dollar automotive empire (including Lopez Motors, which he has run since the untimely passing of his friend and mentor, Frank Lopez), Mr. Montana lavishes the most attention on the love of his life, his wife Elvira Hancock. While the couple has no children, Mr. Montana's fascination with wildlife led to the procurement of a pet tiger who resides on the couple's sprawling property.
Perhaps the finest testament to Tony Montana's American Dream is the centerpiece of his palatial home: a statue beneath a globe carrying the inscription "The World Is Yours."
Bios for real people are fun, too! Contact Hersh for a quote.