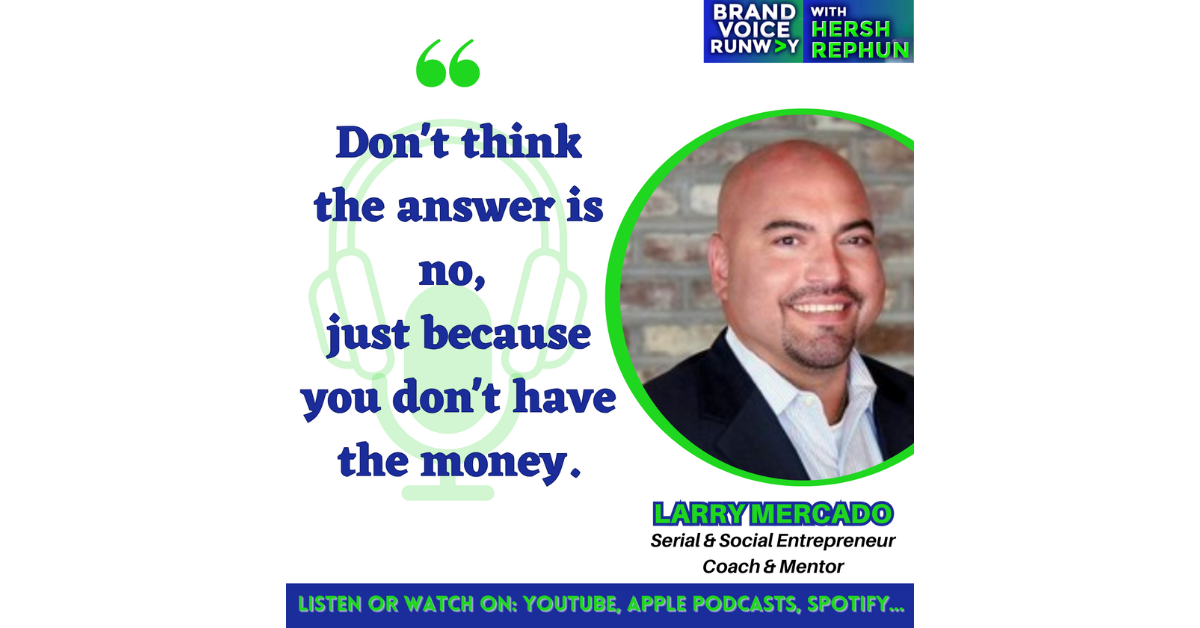 September 7, 2023

hershrephun

0
"You have to sort of stop and smell the roses. And then look at the landscape around you. You, you've been moving and you've been looking down at the ground the whole time, right? You need to stop and ask, "Where am I at? How do I adjust? How do I pivot? What do I need to do next?"
Serial & Social Entrepreneur, Coach & Mentor Larry Mercado is ALWAYS doing something, and he's always doing something next. Presently, he's taking CBD company Bold Biologix to Ecuador, but before we go there, we have to cover Mercom, which he built into a $100M+ IT firm with his sister and exited, his involvement in Napkin, Lysi, and his role as CEO & Founder of DEI.Fund, dedicated to the creation of generational equity in underserved communities by investing in diverse investment fund managers and early and growth stage businesses.
As you can imagine, listener, there's lots to glean from a chat with Larry, who was so gracious with his time and whose deep perspective I share with you here!
LISTEN & SUBSCRIBE to the show on your favorite podcast app –
It's the easiest way to support the BRAND VOICE RUNWAY podcast, and it's FREE! :
https://www.boomplay.com/episode/5151523
00:00 – Bold Biologix & the Cannabis Frontier
02:40 – Mercom: 18 years of lessons and successful gov't contracting. Understand your own capabilities and hire when the job surpasses you.
07:00 – Back to School, Master of Business
15:00 – Bold Biologix, Master of Science, & the CBD Brand Voice Runway
23:00 – Latin America
27:00 – Napkin Digital Marketing & More
"Trust but verify…the best way to help young entrepreneurs is to challenge them.  No business plan is perfect and we have to assume multiple pivots will happen."
Find Larry Mercado:
https://www.linkedin.com/in/larrymercado123/
If you enjoyed BRAND VOICE RUNWAY, please go to Apple podcasts and leave a 5-star full review. It's the best way to support us!
https://.com/us/podcast/brand-voice-runway-with-hersh-rephun/id1682522757
You can check out Hersh's other Top 2% podcasts at https://www.hershrephun.com/podcast/
and follow us on
IG: https://www.instagram.com/hersh4all/
Twitter: https://twitter.com/TruthTstsFunny
LinkedIn: https://www.linkedin.com/in/hershrephun/
Or contact us: