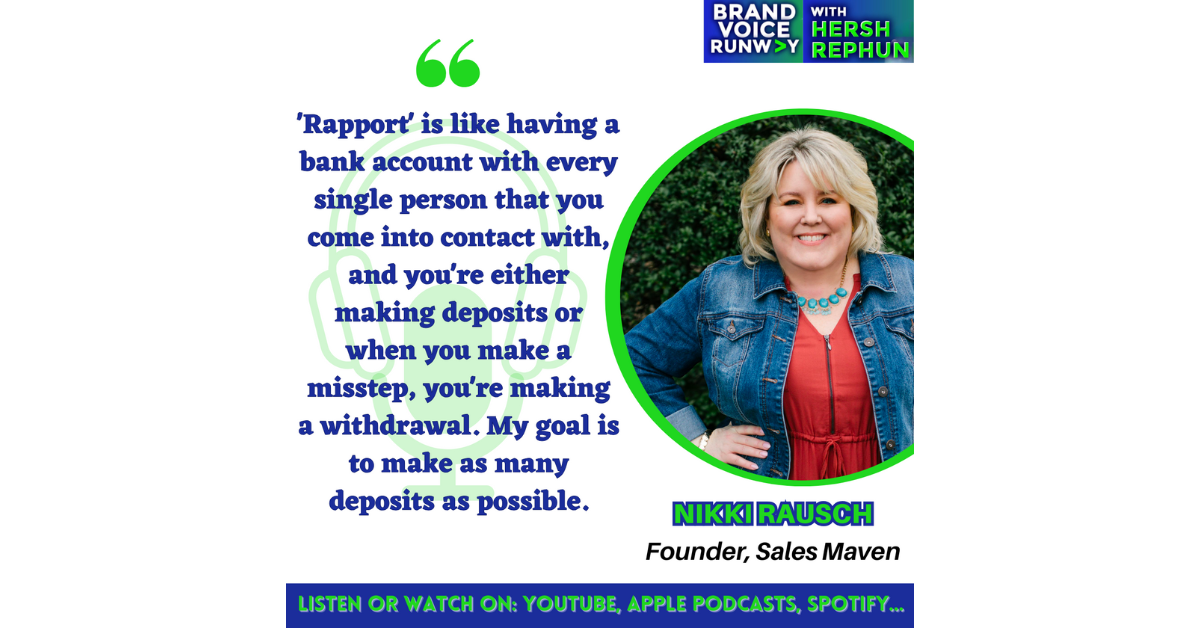 September 7, 2023

hershrephun

0
Sales Maven, the hugely successful sales training brand created by Nikki Rausch, indicates a level of expertise that goes way beyond 'making the deal.' It is a philosophy rooted in the knowledge that it takes two to tango, and that skill, attitude, and approach culminate in a wonderful experience for all involved.
In business since 2013, Nikki tells me that for all the success, "Honestly, it's been the impact I've seen the training have on small businesses" that matters most.
The firm provides sales coaching and training for entrepreneurs, small business owners and their teams, serving them through engaged membership, courses and one on one coaching.
LISTEN & SUBSCRIBE to the show on your favorite podcast app –
it's the easiest way to support the BRAND VOICE RUNWAY podcast, and it's FREE! :
https://www.boomplay.com/episode/5174421
02:00 – Sales without the Sleaze
06:00 – Kind & Credible
09:45 – The Strive List
15:00 – The Sales Maven Society
18:30 – Selling to Sales People
23:00 – The Mavens Make the Culture
If you want to conquer your sales fear and unleash your potential for business success, find Nikki here:
https://yoursalesmaven.com/society/ – Listeners to this podcast receive a code to receive their first month for $47.
If you enjoyed BRAND VOICE RUNWAY, please go to Apple podcasts and leave a 5-star full review. It's the best way to support us!
https://.com/us/podcast/brand-voice-runway-with-hersh-rephun/id1682522757
You can check out Hersh's other Top 2% podcasts at https://www.hershrephun.com/podcast/
and follow us on
IG: https://www.instagram.com/hersh4all/
Twitter: https://twitter.com/TruthTstsFunny
LinkedIn: https://www.linkedin.com/in/hershrephun/
Or contact us: