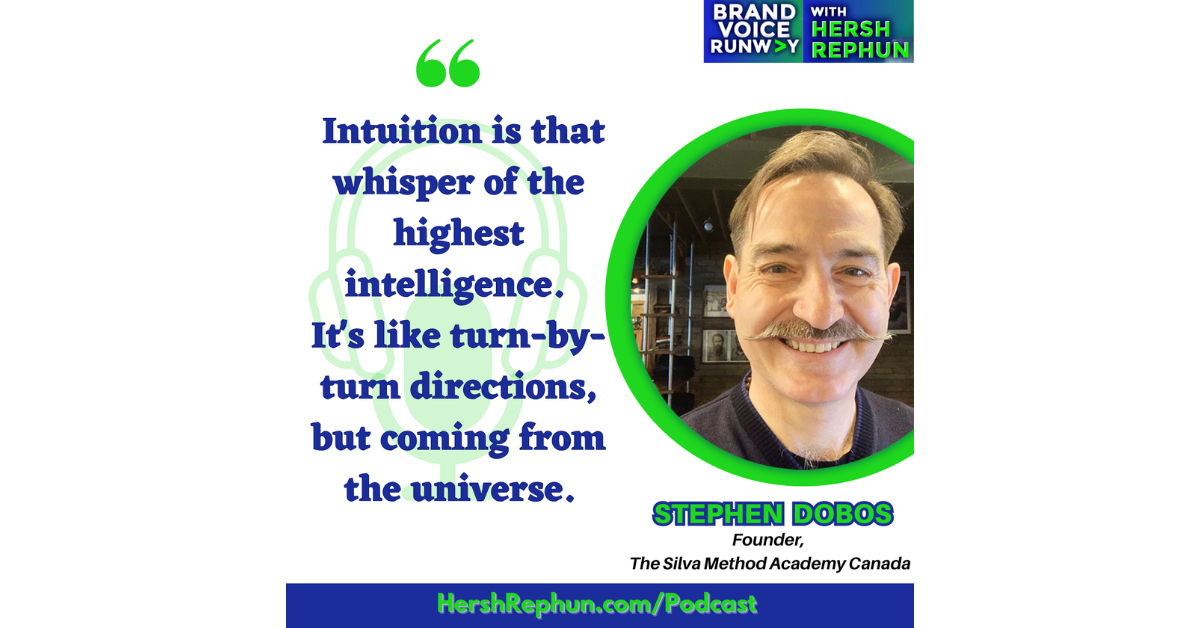 September 22, 2023

hershrephun

0
I've just returned from Toronto, where I attended (and graduated from) the Silva Method 4-Day Immersion led by Stephen Dobos, my guest on this episode of BRAND VOICE RUNWAY. This interview was recorded before we met in person, and before I took the course. What's changed? A lot. My outlook, my insight, my friendships, and my relationship with my purpose and career. Oh, and my approach to meditation.
In Stephen's own words:
"We teach people a scientific system to develop consistent, reliable intuition and to use that intuition to solve every challenges from getting a job to finding a partner or improving conditions at work.  The live event is a profound lasting transformational experience for may people who bathe in the aura of their new resistance-free existence. People, money, jobs, sales are drawn into their personal experience after months or even years of gridlock. The course untangles the cords binding them to gridlock and they experience flow and ease in their lives."
In my own words, I'd add that Stephen's presence and humor lead to an experience that is both light and fun, while being transformative and of unlimited depth.
LISTEN & SUBSCRIBE to the show on your favorite podcast app –
it's the easiest way to support the BRAND VOICE RUNWAY podcast, and it's FREE! :
https://www.boomplay.com/episode/5299068
00:00 – The Forgotten Marketing Method
02:50 – Intuition and Interaction
07:00 – Untraining
10:30 – Silva: Bringing it All Together
13:00 – 2020 and the Shift in Business
20:00 – In-Person Group Meditation & Left-Right Brain Stuff
27:00 – Expanding the Brand
Find Stephen:
www.Silvamethod.ca
www.Silvamethodacademy.com
If you enjoyed BRAND VOICE RUNWAY, please go to Apple podcasts and leave a 5-star full review. It's the best way to support us!
https://.com/us/podcast/brand-voice-runway-with-hersh-rephun/id1682522757
You can check out Hersh's other Top 2% podcasts at https://www.hershrephun.com/podcast/
and follow us on
IG: https://www.instagram.com/hersh4all/
Twitter: https://twitter.com/TruthTstsFunny
LinkedIn: https://www.linkedin.com/in/hershrephun/
Or contact us: