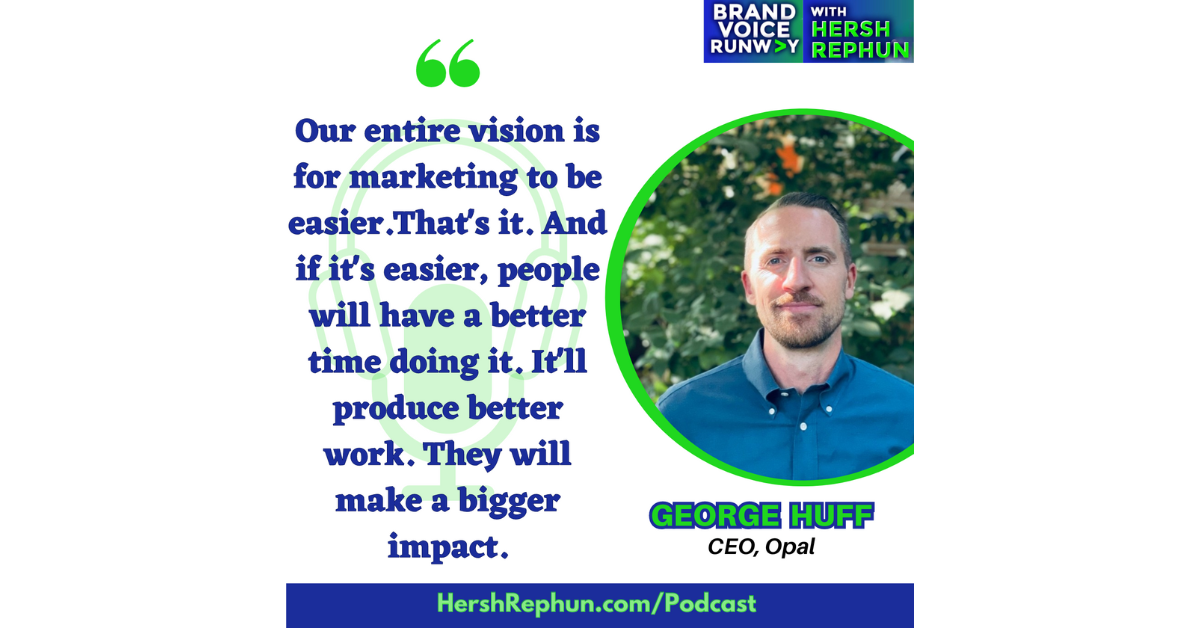 September 28, 2023

hershrephun

0
As CEO of Opal, George Huff leads a MarTech platform used by well-known brands like Target, Starbucks, Whole Foods, 3M, and SAP. Opal's content operations platform produces exceptional results, such as enabling Target to tell their story and create 300 pieces of content every day. That's more content than most influencers create in a week! Seriously, it's a lot, and in this episode of BRAND VOICE RUNWAY, I sit down with George to talk about how big brands avoid burning out their marketing/branding teams, streamlining content scheduling. AND how Opal is really for any business who wants to work smarter – not harder.
We also dig into Opal's branding efforts to scale their operation into the spotlight – as George puts it, "We don't want to be the best-kept secret anymore!"
LISTEN & SUBSCRIBE to the show on your favorite podcast app –
it's the easiest way to support the BRAND VOICE RUNWAY podcast, and it's FREE! :
https://podcasts.apple.com/us/podcast/optimizing-and-humanizing-marketing-materials-with/id1682522757?i=1000629500832
00:00 – Launch Miss, Launch Miss…
02:00 – Hit! The Complexity of Scale
05:30 – When Our Culture is Humming, the Brand is Humming
08:30 – Good Products Solve Problems
11:30 – Highs and Lows
15:00 – Brand Building = Consistency Over Time
20:00 – Keeping in Touch with Consumers…and Employees
Discover Opal:
If you enjoyed BRAND VOICE RUNWAY, please go to Apple podcasts and leave a 5-star full review. It's the best way to support us!
https://.com/us/podcast/brand-voice-runway-with-hersh-rephun/id1682522757
You can check out Hersh's other Top 2% podcasts at https://www.hershrephun.com/podcast/
and follow us on
IG: https://www.instagram.com/hersh4all/
Twitter: https://twitter.com/TruthTstsFunny
LinkedIn: https://www.linkedin.com/in/hershrephun/
Or contact us: