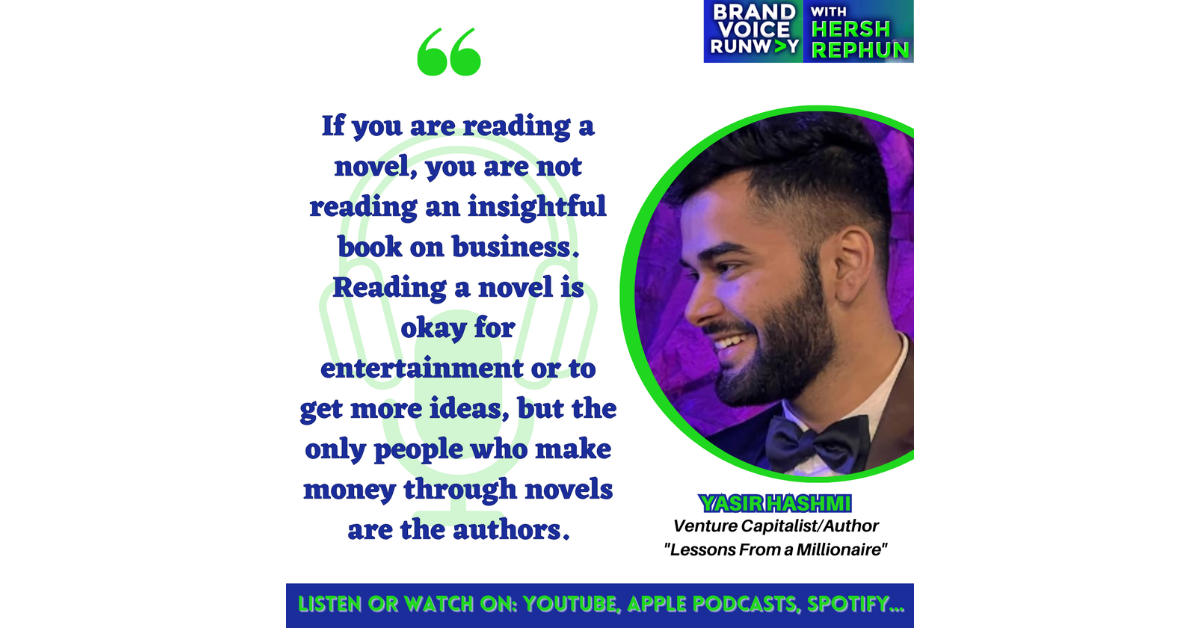 August 21, 2023

hershrephun

0
The fact that Yasir Hashmi's new book, Lessons from a Millionaire, is organized not into chapters but into paragraphs is indicative of the way his 20-something mind works: be focused, and get to the point! The world's youngest venture capitalist and youngest investment banker, Yasir is full of ideas, enthusiasm, and surprises (his published works include A Brief History of Ancient and Medieval India).
He considers crossing $10M+ in valuation as a major turning point in his business, and he dedicates much of his time to sharing insights and helping others discover and fulfill their purpose.
Yasir and I sat down for a refreshing chat about a wide range of topics, from global ("sense of purpose") to granular ("email campaigns"), and this initial mini-episode should whet your appetite for more Yasir!
LISTEN & SUBSCRIBE to the show on your favorite podcast app –
it's the easiest way to support the BRAND VOICE RUNWAY podcast, and it's FREE! :
https://www.boomplay.com/episode/4935750
00:00 – "I've been selling stuff since I was 12."
07:00 – The Biggest Challenge in Business
11:00 – Bad News Travels Fast
12:55 – "Lessons From a Millionaire"
Find Yasir Hashmi:
https://www.yasirhashmi.com/book
If you enjoyed BRAND VOICE RUNWAY, please go to Apple podcasts and leave a 5-star full review. It's the best way to support us!
https://.com/us/podcast/brand-voice-runway-with-hersh-rephun/id1682522757
You can check out Hersh's other Top 2% podcasts at https://www.hershrephun.com/podcast/
and follow us on
IG: https://www.instagram.com/hersh4all/
Twitter: https://twitter.com/TruthTstsFunny
LinkedIn: https://www.linkedin.com/in/hershrephun/
Or contact us: