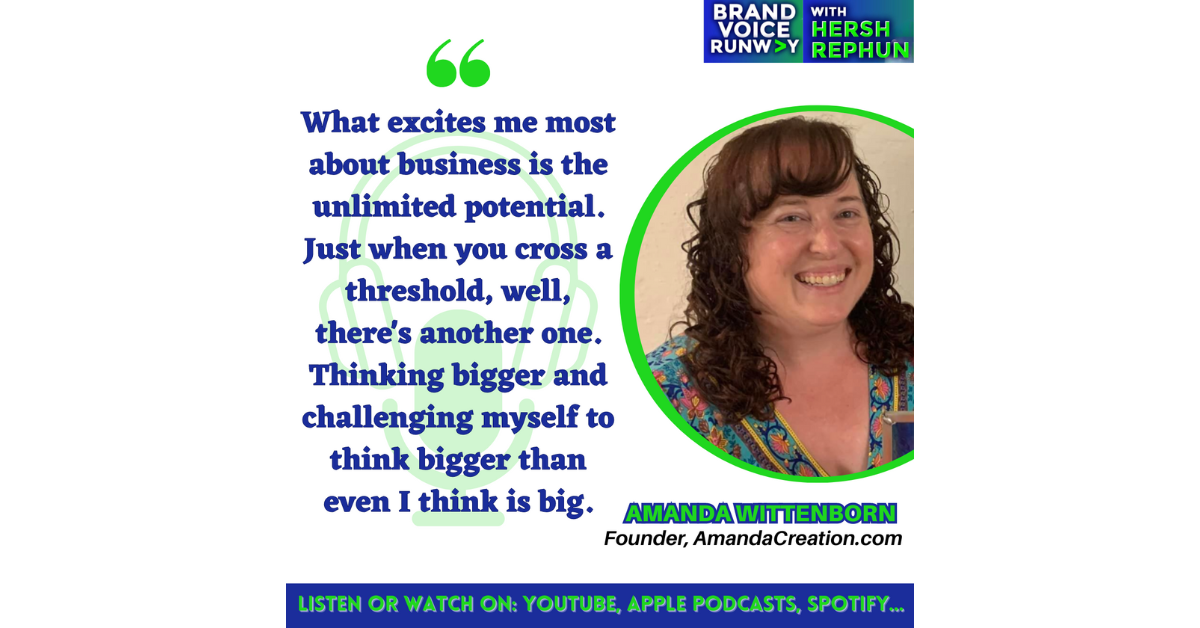 August 21, 2023

hershrephun

0
Stay-at-home Mom Amanda Wittenborn Built a 7-figure Business While her Babies were Napping. That was the original title for this episode, and it's true. Amanda has a really interesting and relatable story, especially for moms just starting out who want to make a little extra income for their families. It's inspiring to see someone who did it, who is just a "regular mom" because it shows them they can do it, too.
In sitting down with her for this conversation, however, what struck me was her creativity. Naturally, her designs are at the heart of Amanda Creation, a female-owned 7 figure e-commerce business (too rare in itself). But it's the way she uses her imagination to navigate challenges and grow her company that truly conveys Amanda's personal brand.
LISTEN & SUBSCRIBE to the show on your favorite podcast app –
it's the easiest way to support the BRAND VOICE RUNWAY podcast, and it's FREE! :
https://www.boomplay.com/episode/4935752
01:55 – The Creation of Amanda Creation
09:00 – A High End Strategy
12:00 – We Were Broke
15:00 – The Time was Finally Right for My Husband to Quit his Job & Join the Company!
16:00 – COVID-proof biz model…NOT!
17:28 – The Idea that Saved the Company and Served 1M Teachers/Students
Find Amanda Wittenborn:
https://www.facebook.com/AmandaCreation/
If you enjoyed BRAND VOICE RUNWAY, please go to Apple podcasts and leave a 5-star full review. It's the best way to support us!
https://.com/us/podcast/brand-voice-runway-with-hersh-rephun/id1682522757
You can check out Hersh's other Top 2% podcasts at https://www.hershrephun.com/podcast/
and follow us on
IG: https://www.instagram.com/hersh4all/
Twitter: https://twitter.com/TruthTstsFunny
LinkedIn: https://www.linkedin.com/in/hershrephun/
Or contact us: