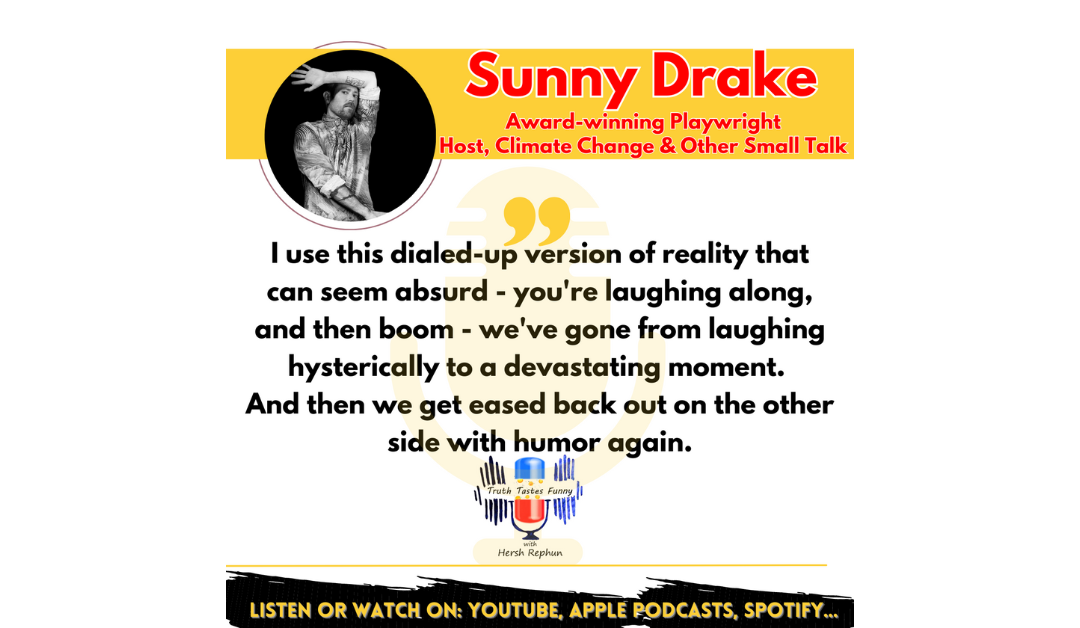 June 22, 2023

hershrephun

0
It's nice every now and then to take a break from all that heavy stuff and just shoot the breeze about climate change, trans rights, and the state of the arts. Of course, those ARE heavy topics – or at least they can be, which is why it was awesome to sit down with Sunny Drake.
Sunny is an award-winning playwright whose innovative and diverse works have been showcased in over 60 cities worldwide. In addition, Sunny is the leader of the CLIMATE CHANGE & OTHER SMALL TALK podcast, which is written by nine playwrights from six different countries and provides a fun and engaging perspective on climate change.
LISTEN & SUBSCRIBE to the show on your favorite podcast app –
it's the easiest way to support Truth Tastes Funny, and it's FREE! :
https://podcasts.pantheon.fm/show/truth-tastes-funny-with-hersh-rephun/sweating-the-small-stuff-with-sunny-drake/
01:00 – Self-Taught Theatre Kid
05:00 – The Accidentally Normal Trans Non-Binary Childhood
09:40 – About the Podcast
11:50 – The Sound of Our Imagination
16:00 – Creative & Comedy Influences
20:00 – Climate Change
27:00 – Climate Justice
30:00 – Let's (have a listening) Party!
Find Sunny:
CLIMATE CHANGE & OTHER SMALL TALK: https://www.sunnydrake.com/creations/climatechangeandothersmalltalk
Website: www.sunnydrake.com
Social:
https://www.facebook.com/sunnydrake.creations – https://www.instagram.com/sunny_drake/ – https://vimeo.com/sunnydrake – https://twitter.com/sunny_drake
If you enjoyed listening to Truth Tastes Funny, please leave a 5-star rating and a 300-word review on Apple Podcasts (click Listen on Apple Podcasts to access review option)
Subscribe to our YouTube Channel
Check out Hersh's branded storytelling podcast: YES, BRAND
Boldly taking brands where they desperately wanna go
Follow us on Instagram: @truthtastesfunny
Follow Hersh on Instagram: @Hersh4all
on LinkedIn: HershRephun
on YouTube: HershRephun
on Twitter: @TruthTstsFunny
Our Website: TruthTastesFunny
More on Sunny:
Sunny's journey to success was unconventional as he taught himself the craft of theater-making due to a lack of inclusion for trans individuals in traditional theater training. Despite this challenge, he has achieved prominence in Canadian theater and has paved the way for other underrepresented voices.