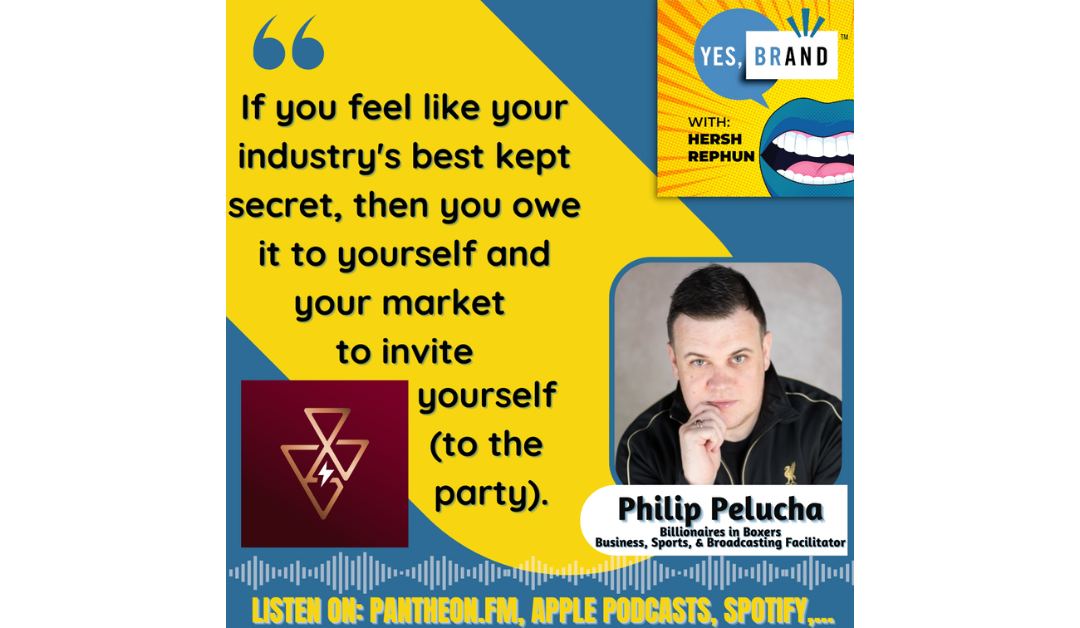 June 16, 2023

hershrephun

0
High-performers and serial-success builders listen up! Phil Pelucha is the kind of expert you wanna keep talking to, and as I watched this interview again, I realized I gotta pick up the phone and get me some more Phil! An internationally renowned Celebrity Entrepreneur Business & Sports Consultant best known for 'Billionaires in Boxers,' Phil (aka the Underdog Champion of the World) is famous for his ability to take your business from Unknown to Unrivaled and his highly publicized long-term ambition to own Liverpool FC.
LISTEN & SUBSCRIBE to the show on your favorite podcast app –
it's the easiest way to support the YES, BRAND podcast, and it's FREE! :
https://podcasts.pantheon.fm/show/yes-brand-with-hersh-rephun/the-reigning-underdog-champion-of-the-world-phil-pelucha/
Business leaders in the B2B space, action takers, and those excited by winning: there's lots to learn here:
00:00: In this corner…Former Footballer Phil Pelucha
02:53: Teaching Sports to Business…and Business to Sports
05:08: The Underdog Champion moniker
09:43: Doing it All vs Doing it Best
12:20: "Visibility + Credibility = Profitability"
17:00: A Case Study
21:56: Phil's Beginnings and Journey
32:27: The 4 P's & Inviting Yourself
Website URL & Social Media Accounts
https://www.linkedin.com/in/philippelucha/
https://billionairesinboxers.com/
Contact: vipbookings@billionairesinboxers.com
About Billionaires in Boxers:
Beating the system, escaping the status quo, and achieving more than they felt possible. Goals & Values: Our clients value creating extraordinary, out-of-the-box change. They are rebels and have gained traction in their industry because of their unorthodox style and approach. Disruption, intensity, and heart are key elements of their personality and business style. Challenges & Pain Points: The BiB client has typically worked with a number of coaches and agencies, and bought a variety of software/systems, but still feels that something is missing. Despite all of their hard work, they are an underdog and their industry's best-kept secret.
Philip is exceptionally well connected globally and is sought after for his ability to teach sport to business and business to sport. Often the intermediary for large-scale commercial and investment deals, translating Football into business and vice versa.
Philip has connections with current and future business leaders as well as some of the best-known sports brands.
If you enjoyed listening to YES, BRAND, please leave a 5-star rating and a 300-word review on Apple Podcasts (click Listen on Apple Podcasts to access review option)
Subscribe to our YouTube channel
Follow us on Instagram: @Hersh4all
on LinkedIn: HershRephun
on Twitter: @TruthTstsFunny
Our Website: YESBRANDmethod
YES, BRAND Theme, Intro/Outro:
Words and Music by: Hersh Rephun
Performed by: Hersh Rephun & Samantha Rephun
Produced and Mixed by: Daniel Teo
J.E.M Music Strategy & Production
Cover Art: Tori Barker, Creative Marketing
YES, BRAND Logo: Aram Youssefian, Focus DM