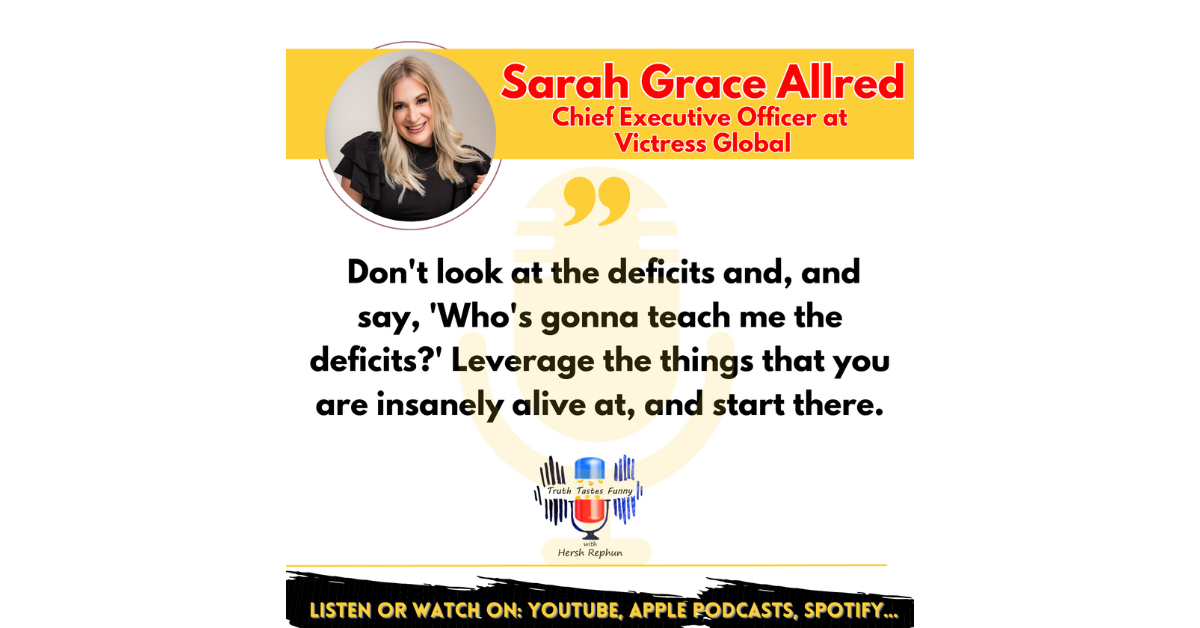 August 4, 2023

hershrephun

0
Sarah Grace Allred is disrupting Marketing. Marketing to women using masculine strategies may finally be falling out of favor, but it's still happening. And it does not work. Sarah's agency, Victress™ Marketing, addresses 72% of buyers who are women and helps businesses connect with women in for real.
With a Top 30 Business Podcast on Apple iTunes, Sarah's greatest accomplishment is building her empire while maintaining a strict 12-hour work week that celebrates FRIDAYS off to swim with her kids. Sarah is a highly sought-after Strategy Coach with clients from all over the world. Using Sarah's unique Victress Marketing system, clients are able to escape "salesy" marketing strategies, spend less time at the computer, and grow their business in a way that lets them take Fridays off. In fact, MOST of Sarah's clients work less than 12 hours a week!
Sarah Grace is determined to help women in business dominate in without "The Typical Grind" and without sacrificing their family, faith, or integrity. Sarah is living proof that if there was ever a time where women could "have it all" – that time is now. Sarah has been married to Greg for 14 years, is a mother to 4 kids, and while we don't know each other that well, we immediately clicked.
I'm inspired by Sarah's mission, and I am sure you will be, too!
LISTEN & SUBSCRIBE to the show on your favorite podcast app –
it's the easiest way to support Truth Tastes Funny, and it's FREE! :
https://podcasts.pantheon.fm/show/truth-tastes-funny-with-hersh-rephun/before-barbie-the-movie-there-was-sarah-grace-allred-the-victress/
00:00 – Welcome to 12 hours/week
04:00 – Baby Makes Pivot
08:00 – Victress is Born
10:15 – Myths Around Time
18:00 – Educating Male CEOs & Marketers
27:00 – Customer Loyalty
40:00 – Insanely Alive
50:00 – Magic Time
Find Sarah Allred:
https://www.facebook.com/groups/v2marketing
https://www.instagram.com/sarahgracelive/
If you enjoyed listening to Truth Tastes Funny, please leave a 5-star rating and a 300-word review on Apple Podcasts (click Listen on Apple Podcasts to access review option)
Subscribe to our YouTube Channel
Check out Hersh's branded storytelling podcast: YES, BRAND
Boldly taking brands where they desperately wanna go
Follow us on Instagram: @truthtastesfunny
Follow Hersh on Instagram: @Hersh4all
on LinkedIn: HershRephun
on YouTube: HershRephun
on Twitter: @TruthTstsFunny
Our Website: TruthTastesFunny