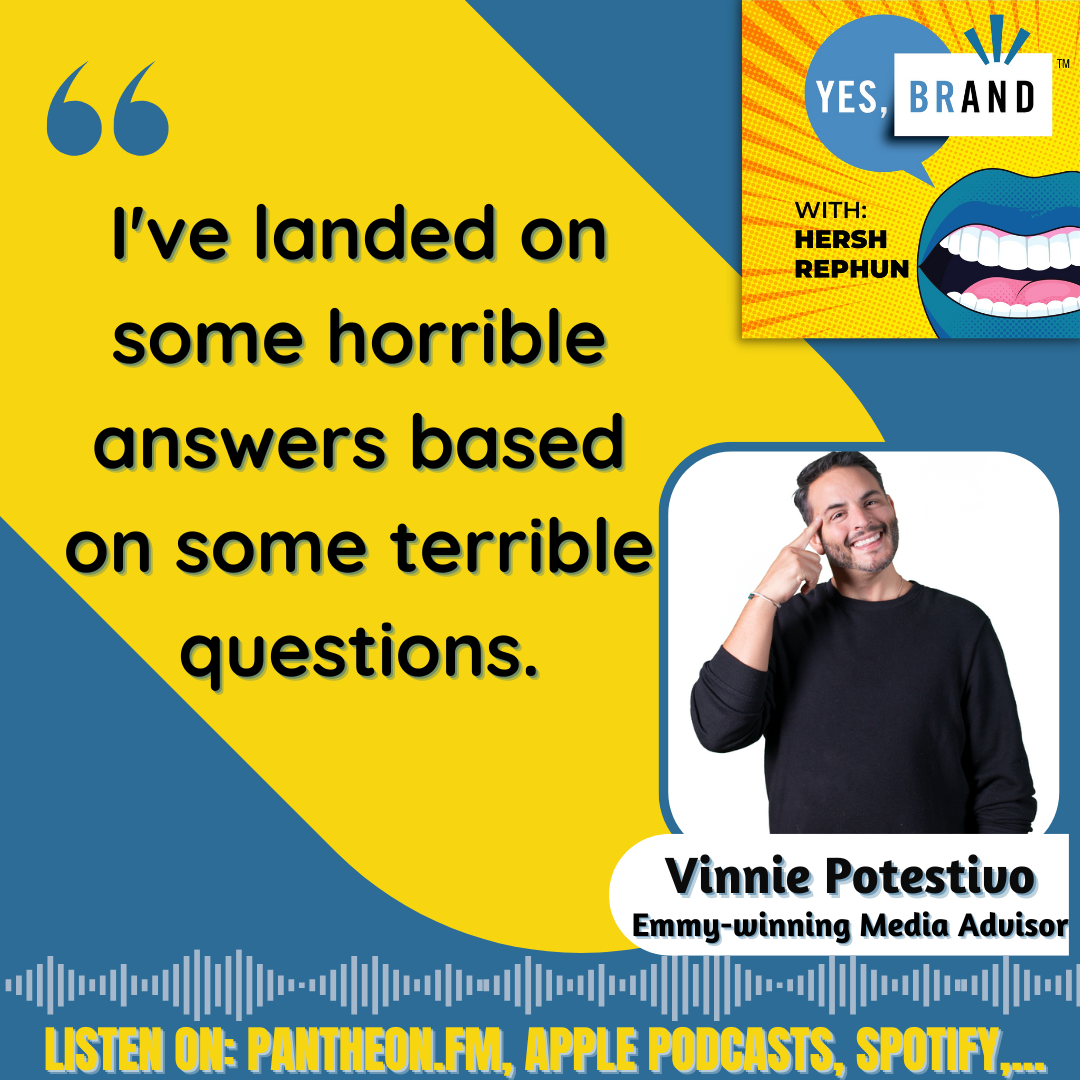 August 18, 2023

hershrephun

0
Vinnie Potestivo is an Emmy® Award-winning Media Advisor who helps clients leverage their media exposure, find fame, and make an impact. Originally, this episode was slated for my Truth Tastes Funny podcast, and indeed Vinnie and I talk plenty about the rollercoaster of life on Earth; but our conversation leaned so much toward media and the business of celebrity today that I moved it over to YES, BRAND. Furthermore, it was Vinnie who suggested I use the phrase "YES, BRAND Method" when referring to how I work with clients…and this seemed like the right homage to his way with branding!
As a network executive at MTV Networks (98-07), Vinnie discovered talent and developed new ways to support their goals, pioneering the way brands and business owners could contribute to their public narrative by making them stars and producers of their own television series. Early hits include Punk'd, The Osbournes, TRL, 8th & Ocean, Wild 'N Out, & The Challenge. Since then, he and his team at VPE.tv have continued to be well-trusted connectors who develop and distribute original content across all media platforms. Especially podcasts!
Vinnie is the Editor-in-chief of I Have A Podcast® and is responsible for discovering and amplifying the voice of independent podcasters worldwide.
LISTEN & SUBSCRIBE to the show on your favorite podcast app –
it's the easiest way to support the YES, BRAND podcast, and it's FREE! :
https://podcasts.pantheon.fm/show/yes-brand-with-hersh-rephun/vinnie-potestivo-brings-his-winning-methods-to-modern-media/
Find Vinnie:
@vinniepotestivo @ihaveapodcast
If you enjoyed listening to YES, BRAND, please leave a 5-star rating and a 300-word review on Apple Podcasts (click Listen on Apple Podcasts to access review option)
Subscribe to our YouTube channel
Follow us on Instagram: @Hersh4all
on LinkedIn: HershRephun
on Twitter: @TruthTstsFunny
Our Website: YESBRANDmethod
YES, BRAND Theme, Intro/Outro:
Words and Music by: Hersh Rephun
Performed by: Hersh Rephun & Samantha Rephun
Produced and Mixed by: Daniel Teo
J.E.M Music Strategy & Production
Cover Art: Tori Barker, Creative Marketing
YES, BRAND Logo: Aram Youssefian, Focus DM